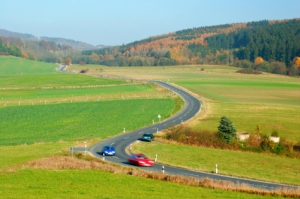 Northward Bound
The bundle of joy had arrived, what a wonder of creation, a true miracle of perfection in this sin-sick world. The mechanic had his very own son to carry his name through a few more years of history. It was a real marvel to behold and they were awed to think this little darling belonged to them. God is so good to give them this wonderful gift. They would dedicate him to the Lord for the service of God and teach him the ways of salvation. The little family was a pleasure and full of sweet memories.
According to the mechanic it was time to try out another school, so the three packed up their few belongings and took a very long trip to a far away school in another country. One of the first jobs he had was to dig a ditch for a septic tank for which he was very thankful. At this same place they had a horse that he was asked to ride. Since he had grown up with horses this was no problem for him. So he went to get on the horse and the horse took off leaving the mechanic on the ground with an injured leg, but he got up and went back and continued his work for a while. When he went into the house, he was in excruciating pain, so he put wet clothes on it and lay down in agony. He prayed to the Lord to take away the pain because it was so intense, he could not bear it. As he was praying for God to take way the pain, a shock went down his leg as if it were an electric current and some of the pain was relieved. Three times the current went down his leg and the pain was gone, while he continued praying and thanking Jesus for taking away the pain. He was so grateful to the Lord for this tremendous miracle right before him, he kept on praising the Lord.
Soon the mechanic was enjoying his classes and working at a big factory where he learned a lot about many different machines, making some and fixing others. This was just what he was so happy doing. It thrilled him to see all these machines around him that he could work on and keep them in the best condition. This was a good education to prepare him for helping God to fix hearts and minds and bodies for the Lord to take to His glorious kingdom. Everything has to run well in the body as well as the machine.
It was time to move his little family closer to the school so he didn't have to drive so far through so much fog. He also did some tree topping to help out with the finances.
Then the family moved to another place. Another little darling was on its way. There was a little more room in this small house. The delightful little girl came one morning, bright pink and chubby with lots of dark hair. To think they had their own little girl was amazing to them.
The school year was nearly over and they planned to return to the former college to finish his courses. The mechanic traded his car for a truck now that his family was growing. He did some remodeling on it and prepared for the long journey before them.
The long journey completed they moved into a little house in the valley. But finances were low and the mechanic decided to go to the bush and work at logging. So he built a one-room cabin for his family and they started pioneering. This was great. It was so much like when he was growing up on the farm. It was his liking to build and make and fix, so he made his own washing machine model. And he loved falling trees and sawing logs and stacking the fresh cut lumber. There was nothing more enjoyable than being out in God's quiet country away from the sights and sounds and pollution of the towns and cities. This was the best place for the children out in nature and hear the birds and see the wild flowers bloom. The family moved into a little three room cabin that the mechanic built up on a beautiful little hill with a spring at he bottom. It was the ideal place of pleasant loveliness.
The logging business did not work out and instead of helping the pocket fill it was completely empty. So again the family was on the road. The mechanic went to school and worked in another factory where he enjoyed making things. The big house they had to live in was very old and interesting with plenty of room for the children to play. The third little delight was a girl who came when the winter was starting leave. He was learning slowly the mechanics of being a father and catching on to what it is to be a daddy. What a happy little family this was who wanted Jesus to guide them to be His children always.
The Law of God is what reveals His character to the world. This is to be the guide in the life of the followers of Jesus. The whole Bible is the magnifying of the Law of God. It goes into detail about how God's Law is to be personally applied to the individual life by the examples of the lives of the people in Scripture and what the Lord taught them.
Graduation was not far away and soon the mechanic would be finished with all the race and battle of college. He was a good student and enjoyed learning. At this time he was working at the bookbindery. This was quite enjoyable work, but there were some book that he knew should not be there that he was reading portions of and it was really bothering him, because he wanted to be a genuine Christian and walk with Jesus all the time. He needed to work, but he felt he could not do this job anymore. He did not want to fill his mind with these books or have a part in someone else reading them. So he quit this job for which he went through fiery trials. The graduation day came at last and what a relief that that part of the battle was over.
The little family headed out on the road again, after taking many things to the auction. They had many miles to go to where the mechanic was stationed to work at a sawmill. It was beautiful country and the Lord gave them another safe journey. The family used a very tiny cabin to store their things in while they lived in the twelve-foot trailer the mechanic had specially built for this trip. Some how all five of them found a corner to sleep in with a little tin stove to burn wood to keep warm. You can talk about roughing it because the snow soon came and it was way out in the bush with no one around. Then the mechanic had to go on a very long trip with his youngest brother and mommy and the children were left to fend on their own doing the chores chopping wood to keep the fire going for it was cold. Well, that's the duty of the mechanic and this particular journey was very eventful. He was to drive a big semi to an auction because the mill did not need it anymore. He was told that the truck would not go any faster than 40 M.P.H. So they started out, poking along at 40 mph and he was thinking, 'we will never get to the auction at this speed, there has to be a way to fix this'. So they stopped and began looking for the reason why this big machine was so slow. The rod on the pedal was bent so it naturally would not go any faster than how far the pedal would go so he bent it back and they could now clip right along. He had class 2 license, but that was not the right one, and also he had no air ticket for driving a big truck. As it was coming on toward evening they drove by a check stop and he decided to turn on his lights. Unknown to the mechanic, the trailer lights were not working and he was pulled over and given a ticket for not having lights on the trailer. The man told him to go to the truck stop and get some wire. So he got some wire at the truck stop and soon the lights were working and they were on their way again. He just thought his boss would have made sure all was working before he tried to sell it at the auction so he didn't think he needed to check things out. Nothing is accident with God, for he knows what has happened in the past in every respect and he knows exactly what is going to happen in the future right to the T. There is no guessing with God for He knows all things, no matter the subject He knows it. He allows us to go through the experiences we need to build our character and to teach us lessons that we can apply to future tests, like making sure the lights work before we start on an excursion.
Also we are to be qualified for the project or it could take all our earnings to take care of the results. These tools are imperative. The Lord would have us abide by the laws of the land as long as they do not conflict with the law of God. We are to obey God before man. Sometimes it is in our ignorance that we get into trouble but then when we learn then we are delighted to do it right.
"Behold, we count them happy which endure. Ye have heard of the patience of Job, and have seen the end of the Lord; that the Lord is very pitiful, and of tender mercy." James 5:11